Adrian S. Juttner
We walked our bags out on the tarmac and our flight left out of Moscow­ Sherementyevo Airport at 9 AM. We were seated in Spartan seats made of tubular aluminum aboard a Tupolev turbo prop aircraft. Our ample Aeroflot hostesses served greasy sausages, hard candy and mineralya voda. The passengers were an eclectic mix of Europeans, Americans, Canadians, Japanese, Mongols, Tadzhiks, Turkomens and Buryats. Our flight took us over Azerbaijan, the north end of the Caspian Sea, the Aral Sea, Bukhara and Tashkent. We could clearly see the great Blue Mosque of Samarkand as our plane droned on and on across nine time zones and the vast steppes of Central Asia. It was dark when we landed at the Dushanbe airport.
Dr. Ovchinnikov and a delegation from the Tadzhik Academy of Sciences met us and took us by bus to the Hotel Dushanbe on the main drag, Lenin Prospekt. We were fellow travelers from the XII International Botanical Congress that just concluded in Leningrad the day before. That meeting was held at the Tauride Palace, the one-time residence of Count Potemkin, a paramour of Empress Catherine the Great, aide-de-camp to General Suvorov and the namesake of the famous "Battleship Potemkin".
Our tour began on the next day with the Botanical Garden. A beautiful setting with a wide variety of plants from all over the globe: Oriental sycamore, Redwood, Ginkgo, pines, fig, pistachio and other fruit trees. Dr. Ovchnnikov addressed our group at a luncheon under a grape arbor. We dined on shashlik, washed down with the local red wine that was very good. It was hot and sunny with temperatures over IOO˚F. To keep cool, we were served piping hot Gruzian (from the Republic of Georgia) green tea.
I took a stroll around town that afternoon and evening, blundering into the local farmer's market. There was a dizzying array of crucifers: watermelon, cantaloupe, cucumbers gourds and melons of never-seen varieties. Central Asia is the origin of this entire group of plants. Folks were different from what I was used to, but very friendly. I wandered about this strange world as night fell. Suddenly, someone pulled me into a doorway. I was seated as a guest of honor at a Tadzhik wedding. A small ensemble was playing musical instruments I never saw before. A plate of food, wine and vodka were placed before me. A sultry woman eyed me and motioned me over to sit next to her. "Oooo!", I thought, as I moved next to this latter-day Scheherazade. She was an English teacher who wished to speak English to a native speaker. Very few English speakers make it to this remote part of the world. We talked on and on – in English. Pretty soon, it was getting late and I needed to get back to the hotel so I could re-join the botanists the next morning. But – I was lost and totally disoriented. "Can you help me get back to the Hotel Dushanbe?" She motioned to a couple of soldiers with "CA" (Soviet Army) tags, asking them to cram me into their jeep. They refused. Then, she called a cop, dressed in a grey uniform, who took me by the arm and walked me back to my hotel, asking: "Do you like the police in Dushanbe?" "Oh -yes", I replied "if I was at home, you'd be taking me to jail instead." We must have been a sight, the cop and I, walking past those ivory tower academics at that hour!
The Varzob Botanical Station
Bright and early, next morning we were bussed up north to the Varzob Botanical Station. It sits at the bottom of the Varzob River valley, ringed with bare mountains covered by scattered scrub. The climate here borders on Mediterranean with mild winters with ample precipitation to hot, dry summers. The dry hills above the station were once forested with Spruce-Fir. But, they, along with the rest of Tadzhik forests were felled and exploited in the 16th century so much so that today's country folk have to burn cow dung patties for cooking. Wood for construction is unavailable. Buildings are made of brick and reinforced concrete – not a good idea in an earthquake zone. One can say that most of the Muslim world, from Gibraltar to the gates of China were similarly deforested and laid waste. Feral goats eat most everything that grows above 1m tall.
At the time, the Soviet government was trying to terrace the slopes above the station in an attempt to re-forest, using mostly fruit trees. As the only forester in this botanical group, I saw this effort doomed to failure. I suggested, instead that the terraces be cut deeper to retain more water in the summer and planted with hardier vegetation such as Juniperus seravshenJica, Acer turkestanicum" Pinus eldarica,hardy oaks and Platanus orientaiis in wetter spots. The State of Israel has done this already by creating a synthetic wilderness out of waste land at Tel Dan National Park. The park sits between the Galilee and Mt. Hermon. They planted trees from America, Europe and Australia together with native Tabor Oaks. Superior mycorrhizae – fungal root symbionts are an essential part of any re-forestation effort. The most popular of these is the fungus Pisolithus tinctorius, which can be inoculated ~to rows of nursery seedlings making them more hardy in tough, droughty conditions. My late friend, Dr. C.E. Cordell, together with Dr. Don Marx, did just that in the Upper Yangtze Valley of China. They inoculated Loblolly pine seedlings from America with this fungus before doing an ambitious planting scheme. For his effort, they were awarded the Wallenberg Medal from the King of Sweden. Goats? They would have to be fenced off or exterminated. Jablanica, a Muslim town located in the Neretva River Valley of Herzegovina is famous for jagnjetne – roasted whole goat, turned on a spit.
Anzob Pass
Passing Varzob, still heading north out of Dushanbe we enter extremely mountainous country – the Pamir Altai. This range runs to elevations above 20,000 feet and is an extension of the Himalayas and the Tien-Shan mountains of China. A 25,000-foot peak, called "Communism Peak" was the highest point in the Soviet Union. Our buses took" us up, up. We passed migratory bee keepers, with their wooden carts loaded with hives, following the flowers up. Anzob Pass, (3373 m or ca 11,000 feet) is in an alpine zone. A weather station sits on top. A lichenologist in our group was busily chipping off bits of rock, hoping to collect some exotic lichen squamules. I bet he had to drag over 100# of rock with him on the flight home.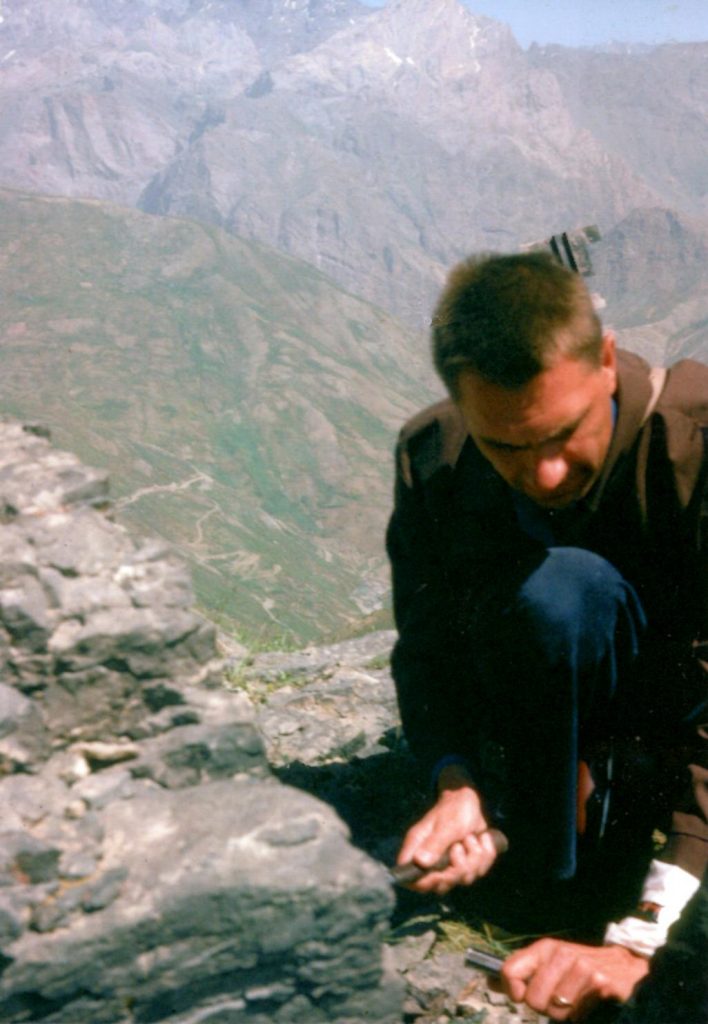 Nurek
An ill wind was blowing hot air and a nasty yellow sky out of Afghanistan to the south. I was sick as a dog and lay in bed in my hotel room. I missed the tour south to Nurek and the sub-tropical vegetation there. It was all my fault. You see, I missed most of the boring meetings at the Tauride Palace and hung out with Yugi, Julia and a bunch of Russian gangsters in Leningrad. We did a bit of black market trading in dollars and Rubles. (Official rate: IR = $IAO, Black market rate: IR = 75c to $1 100 Kopecks = I Ruble. Today's Ruble is worth about 1.5c or about 70 to the Dollar.) Our ill-gotten gains went to buy blue jeans, American cigarettes, nylon stockings and other goodies at the "Beriozka" shops, along with real sturgeon caviar from Astrakhan, fine dinners and "Sovietskoye Champagneskoe". These shenanigans caused me to miss the Hermitage tour. Well, these Russian folks took to drinking water from streets ide water machines: "Gazurovannaya Voda". City water was simply piped into a machine schpritzed with some C02 gas, flavored with a bit of apple and delivered in a communal glass for 2 Kopecks. The buyer washed the glass in city water before using and returned the used glass to the top of the machine. Leningrad city water is infested with the intestinal parasite Giardia. The U.S. consulate warned us about this. I didn't listen. So – I missed the tour to Nurek.
Leaving Dushanbe was sad. We said goodbye on the tarmac to so many new friends. All I could do was to exchange pens with Irnonmazar before boarding the plane back to Moscow. But, botanists bonded too. I ended up on a wonderful date with Dr. Sachiko Nagasawa of Tokyo. We walked across Red Square, through 20-foot-thick brick walls of the Kremlin, guarded by tommy gun toting soldiers to see Tchaikovsky's opera "Queen of Spades" I kept in touch with Imonmazar, Sachiko, John and Marian Pierce, Roger del Corral, Dominque Puiseaux and Oscar Soule for years afterwards.